Five moments that prove '2015 was great year for Bangladesh cricket'
The year that began with ICC's mega event in Australia and New Zealand was full of confusion for all cricketing nations but Bangladesh still managed to do somethings enough tremendous to prove themselves 'great.'
The five moments that shaped greatness of Bangladesh in cricket grounds in 2015 are
1- Bangladesh completed first ever white wash against Pakistan
In April 2015, Bangladesh was fortunate to complete historic white wash against Pakistan on its home grounds. Pakistan was defeated in a all three ODI games by 79 runs, 7 wickets and 8 wickets if placed in order.
In the first of three matches Bangladesh scored 329 runs in the given 50 overs. In response Pakistan were all out at 250 runs. The victory is one of the very few great wins of the south Asian cricket team.
Bangladeshi Prime Minister Sheikh Hasina Wajid herself came to stadium to watch the final match of series against Pakistan.
2- Bangladesh qualified for Champions Trophy 2017
Since 2006, it was first time when Bangladesh was included in top eight ODI teams in ICC ranking. It was listed at number 7 above Pakistan as of September 30, 2015 and as a result Bangladesh qualified for 2017 ICC Champions Trophy.
The mega event is scheduled to be played in England, where Bangladesh will feature for first time in last decade.
3- Bangladesh won first ever ODI series against South Africa
After Pakistan, in July South Africa's Bangladesh tour also turned out to be a big surprise for cricket world when the latter defeated the first in ODI series by 2-1. The last two games of three-match series played in Dhaka and Chittagong were won by Bangladesh by 7 and 9 wickets respectively.
After first ever victory in ODI series Bangladesh was successful to draw the Test series against South Africa as well.
4- Bengal Tigers defeated India by 2-1 in ODI series
India became another nation to face defeat at the hands of Bangladesh in 2015. In June 2015 Bangladesh beat India in ODI series for the first time with 2-1.
In the first game of three-match series Bangladesh scored 307 runs and India was all out at 228 with four overs remaining.
5- Mustafizur Rehman was featured in ICC's ODI team of the year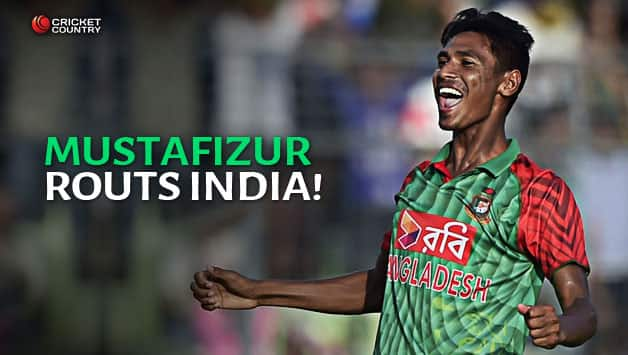 The greatest ever year for Bangladesh ended with another big news from ICC when youngster bowler Mustafizur Rehman was included in ODI team of the year 2015. Rehman was first ever Bangladeshi cricketer to feature in ICC's ODI team
Previously Tamim Iqbal was once included in ICC's Test team of the year.
LAHORE (Ali Zain) - Bangladesh cricket team has always been in turmoil and listed in the bottom of ICC rankings but 2015 was not a bad year at all. The team crossed great cricketing landmarks in the year to shock the whole world.