KARACHI (Staff Report) – At least two person died and four others were injured when police resorted to aerial firing and use water cannons and tear gas shells to disperse the protesting employees of Pakistan International Airlines here on Tuesday, who tried to enter Jinnah International Airport in Karachi.
According to media reports, the protesters were also baton charged and as a result at least five people including cameraman of Dawn News were also injured.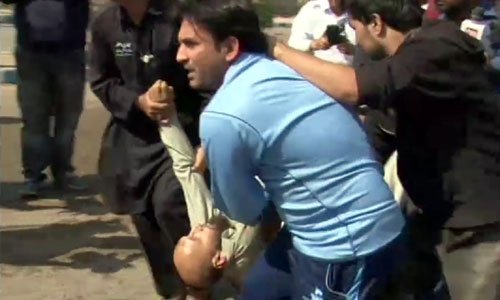 Meanwhile a spokesman for PIA Joint Action Committee, the group of employees that announced countrywide protest on Monday, has said that protesters were peaceful and attacked by the police officials. The injured have also received bullets in upper part of body, he claimed.
Police officials, present on the occasion, however dismissed the allegation saying that none of the policemen opened fire at the protesters.
PIA Joint Action Committee had Monday announced shutting down of all kind of operations across the country for indefinite as protest against the proposed privatization of the national flag carries airlines.
---
---
UPDATES
---
---
Protester leader blames Sindh Rangers for firing at rally near Karachi airport
PIA Joint Action Committee head Captain Sohail has said that Sindh Rangers personnel wearing masks opened fire at the protesters at Karachi airport earlier today.
He also claimed that two protester, not one had died in the firing incident.
Earlier the Rangers spokesman had completely distanced his force from the firing incident which claimed one life. Four others were also injured in the tragedy.
Six PIA flights delayed at Karachi airport
At least six flights of PIA, including one international flight, have been delayed due to ongoing tense situation at Karachi airport.
Media reports said the flight were scheduled for Lahore, Islamabad, Multan and Jedah.
Rangers spokesman deny firing at protesters 
Sindh Rangers spokesman has said that none of the paramilitary officials present at Karachi airport opened fire at PIA protesters.
The spokesman completely distanced his force from the firing incident which claimed one life earlier today. Four others were also injured in the tragedy.
CM Sindh summons DIG East over firing incident
The Sindh Chief Minister Syed Qaim Ali Shah has summoned the DIG Karachi East Kamran Faisal over the firing incident that took place at Karachi airport.
The CM office also condemned the police torture of PIA employees ina statement. Appropriate action will be taken against those responsible for the firing incident, it added.
Police investigating firing incident at Karachi airport
DIG Karachi East Kamran Faisal said that police were investigating the incident happened at Karachi airport. He added that he was not aware about the details of injured or dead protesters so far.
One protester dies in hospital
One protester, who received bullet in his stomach during the protest at Karachi airport, has succumbed to his wounds. The deceased protester has been identified as Inayat Raza, who was working as  technician in PIA.
Flight operation not disturbed by protest: PIA spokesman
PIA spokesman has claimed that flight operation of the national airlines and other private airlines is not disturbed by the protest at Karachi airport. PIA has a complete alternative plan to cope with the protests, he added.
Police arrest three leaders of PIA Joint Action Committee
Police officials have arrested as many as three key leaders of PIA Joint Action Committee including Dr Imran Zakar Khan and Hidaiyatullah. Two other protesters were also among those arrested during action at Karachi airport.
Protesting employees and police clash in Multan
Following the tough situation at Karachi airport, there are reports of clash between police officials and PIA employees in Multan as well. Police are trying to stop the protesters from entering the airport using water cannons.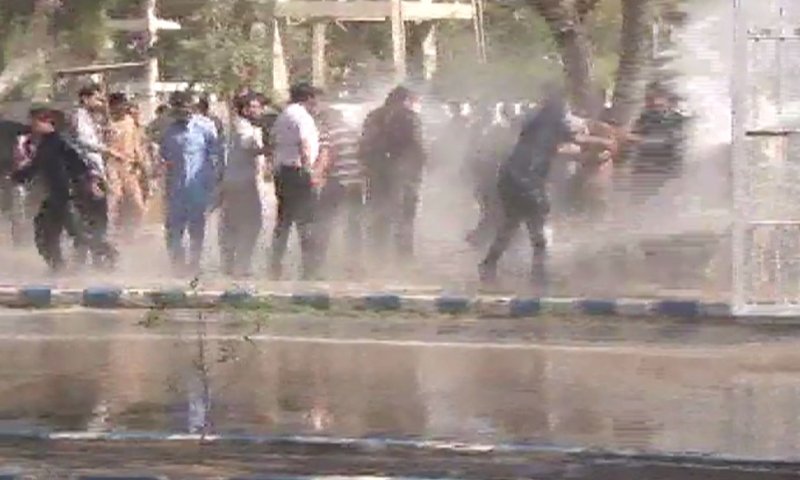 Opposition leader condemns police torture of PIA workers
The opposition leader Syed Khursheed Shah has strongly condemned the police torture on PIA's protesting workers calling it a worst example of brutality. He said that such actions by current government are part of their dictatorial policy like military rulers.
He announced to stand by with all employees of the national airline in this time.
PIA spokesman claims 'flight operations continue despite protests'
Pakistan International Airlines (PIA) has claimed that all flights are operating from all airports of the country as per schedule, while several groups of PIA employees remain on strike despite announcement of necessary services act 1952.
A spokesman for PIA said that flights PK-4232 from Islamabad to Abu Dhabi, PK-584 from Islamabad to Dera Ghazi Khan and PK-300 from Karachi to Islamabad and PK-755 from Islamabad to Riyadh have left for their destinations.
The spokesman said government has given a strong message and those who are taking law into their hands will be dealt with sternly.
Meanwhile Information Minister said that those pilots and employees who are performing their duties are national heroes. Such heroes will honored in the coming days, he added.
The PIA management once again asked the employees to call off their protest and resume duty and said that because of workers' strike for six days the organisation had incurred a loss of Rs600 million.