PESHAWAR (Staff Report) – Chief of Army Staff General Raheel Sharif Sunday attended the funeral prayers of four martyred personnel of Pakistan army at Corps Headquarters in Peshawar.
Other top military officials and civilian leaders also attended the funerals. The participants paid rich tributes to those who sacrificed their lives for country.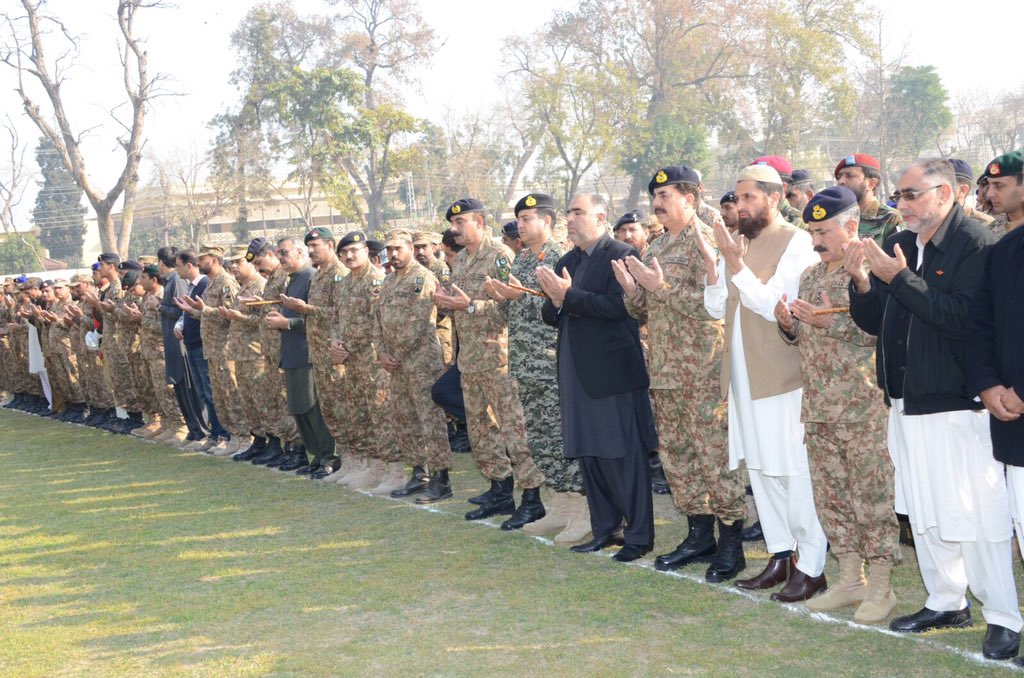 According to Inter-Services Public Relations (ISPR), the three soldiers and one officer, Captain Umair died in combat against terrorists in Shawal valley.
Soeaking on the occasion, the army chief said that brave soldiers of Pakistan army embraced martyrdom but did not allow militants to flee the battle filed. The menace of terrorism will be wiped out from every corner of country, he reiterated.
Video footage of Namaz e Janaza of shahauda of shawal Operations, NWA

Posted by ISPR Official on Sunday, February 28, 2016
Afterwards General Raheel Sharif visited Combined Military Hospital (CMH) in Peshawar to inquire about the health of injured personnel of Pakistan army.
On Saturday, at least 15 suspected terrorists were killed when Pakistan Air Force (PAF) fighter jets bombarded their hideouts in Maisar area of Dattakhel Tehsil in South Waziristan Agency.