21 dead, 30 injured in terrorist attack on Bacha Khan University, Charsadda
Law enforcement agencies and rescue teams rushed to the university campus, while eye witnesses said that gunfire was also heard from university premises. Four major blasts were also heard from inside.
According to reports, the university campus and hostels were evacuated and people from surrounding areas were  instructed to avoid coming closer to the university.
Security officials said the death toll could rise to as high as 40 as army commandos cleared out student hostels and classrooms.
Four of the attackers have been neutralised by Pakistan army, security officials told Daily Pakistan.
Rescuers said 19 bodies had been recovered including students, guards, policemen and at least one teacher, named by media as chemistry professor Syed Hamid Husain.
There are reports that fifty severely injured people have been admitted to district headquarter hospital so far. Four security guards and a professor were also among the injured.
Key Information:
The attack started around 9:00am

Four attackers carried out the terror bid

Four terrorists have been neutralised by Pakistan army

TTP spokesman has condemned the terrorist attack

Around 3,000 students and 600 guests were present inside the university premises
---
---
LIVE UPDATES
---
---
End of live updates
3:01pm PTI chairman Imran Khan, whose party is in power in KPK, has reached Bacha Khan Unisersity, Charsadda to review the situation after today's terrorist attack.
He will also visit the district headquarter hospital afterwards.
2:46pm A list of thirteen dead has been placed outside Charsadda district headquarter hospital.
Names of some of those died and injured in attack on Bacha Khan University, Charsadda pic.twitter.com/opYDBEz4cy

— Khalid Khan™ (@khalidkhan787) January 20, 2016
2:30pm  According to the statement emailed by TTP spokesman Muhammad Khurasani, Tehreek e Taliban Pakistan has condemned today's attack on Bacha Khan University, Charsadda.
2:03pm Chief of Army Staff General Raheel Sharif has reached Bacha Khan University, Charsadda to review the situation after terrorist attack.
1:55pm Indian Prime Minister Narendra Modi has strongly condemned that attack on Pakistani university. He extended condolences tot he grieving families in twitter post.
Strongly condemn the terror attack at Bacha Khan University in Pakistan. Condolences to families of the deceased. Prayers with the injured.

— Narendra Modi (@narendramodi) January 20, 2016
1:47pm KPK Chief Minister Pervez Khatak confirmed that he has cut short his Europe trip and will return Pakistan by evening.
Talking to private TV channel, he vowed to take every step to curb the recent wave of terrorism in KPK.
1:43pm Chairman of Charsadda's district government has announced that all educational institutions in the district will remain closed till January 31.
1:30pm KPK Chief Minister Pervez Khatak, who was in Dubai on his way to United Kingdom for an investment conference, has cancelled his trip. He was coming back home immediately, according to a spokesman for provincial government.
1:22pm According to DIG Mardan Saeed Wazir two suicide jackets wore by dead militants have been defused. He inisted that number casualties was around a dozen.
He said that student stuck inside have been evacuated successfully.
1:13pm Awami National Party (ANP) president Asfandyar Khan wali has announced that his party will observe 10-day mourning following the attack on Bacha Khan University, Charsadda.
1:06pm Pakistan Tehreek-e-Insaf chief Imran Khan, whose party is in power in KPK, has announced that he was immediately leaving for Charsadda to meet the injured and review the situation after deadly attack.
12:55pm KPK information minister Shaukat Yousafzai said that death toll in terrorist attack has risen to 25. He said the attackers took shield of dense fog to enter the university premises.
12:40pm According officials present at site, university premises has been declared as clear. All of the students have been evacuated while a search operation was still underway.
12:30pm Abdul Wali Khan University, Mardan has been closed following the terrorist attack on Bacha Khan University, Charsada. Administration said that university will remain closed for an indefinite period.
12:27pm KPK information minister Shaukat Yousafzai said that number of attackers was said to be six. Out of them four have been killed.
12:24pm Federal Information Minister Pervez Rasheed informed National Assembly of Pakistan that militant attack was immediately responded and law enforcement agencies were combating the terrorists bravely. He said federal government was monitoring situation at the Bacha Khan University, Charsada.
12:18pm Pakistan army spokesman said that there was no sound of firing at the moment. Military operation continues.
Charsadda Update:clearance of university block by block continues by Army troops.No firing being heard

— AsimBajwa (@AsimBajwaISPR) January 20, 2016
12:17pm A rescue official confirmed that they have shifted 15 dead bodies to hospital so far. He further feared that casualties could be much higher.
12:02pm Vice Chairman of Charsada district government Musawar Khan said that number casualties can surge as the situation inside university was very disturbing. He was talking to reporters just minutes after he came out of the university.
11:44am Pakistan army spokesman has said that two more terrorists have been neutralised. The total number of killed militants has risen to four.
Update:Snipers killed 2 more terrorists on roof top,total Terrorist killed so far 4.All buildings&roof top taken over by Army.op continues-3

— AsimBajwa (@AsimBajwaISPR) January 20, 2016
11:42am Tehreek-e-Taliban Pakistan (TTP) has claimed the terrorist attack on Bacha Khan University. The spokesman claimed that armed militants successfully entered the university buildings, according to Indian media.
11:37am Bacha Khan University Vice Chancellor confirmed that he was aware of at least five casualties so far. The dead included four security guards and a policeman.
11:31am Provincial Minister KPK Shaukat Yousafzai told newsmen that more than 50 people were injured in the attack while he had reports of at least 20 casualties in the terrorist attack.
11:29am Pakistan army spokesman said that special commandos have confined the terrorists to two blocks of university. All other areas have been cleared.
11:27am One of the injured, who was also a lecturer at university, brought to hospital claimed that attackers were wearing black clothes and they targeted people indiscriminately.
11:22am Rescue teams have successfully evacuated more than 60 female students from a hostel bulding. None of them was injured.
11:18am Hussain Gulab, Chemistry Department professor, said that he was still stuck inside univesirt premises. Rescue teams have still not reached him, he said.
11:14am Prime Minister Nawaz Sharif has condemned the terrorist attack, while he is in Switzerland to attend annual meeting World Economic Forum.
He vowed to eliminate terrorism as soon as possible, directing the authorities to take every steps to cope the attack.
11:12am Rescue teams have entered the university's area that was main target of militants attack, while three terrorists are said to hiding in a boys hostel.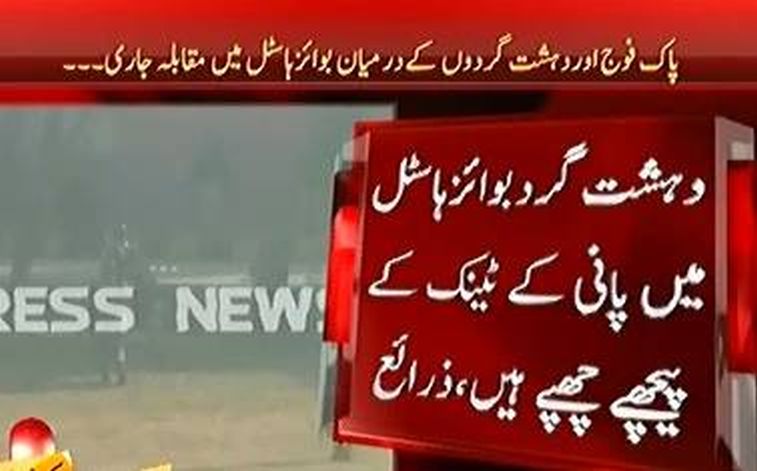 11:06am Police officials have claimed that they have surrounded three of the attackers in a building.
10:58am DIG KPK Police Saeed Wazir has claimed that two of the attackers have been killed.
Meanwhile Information Department said that number of attackers varied from 6 to 8. At least three of the attackers are still alive.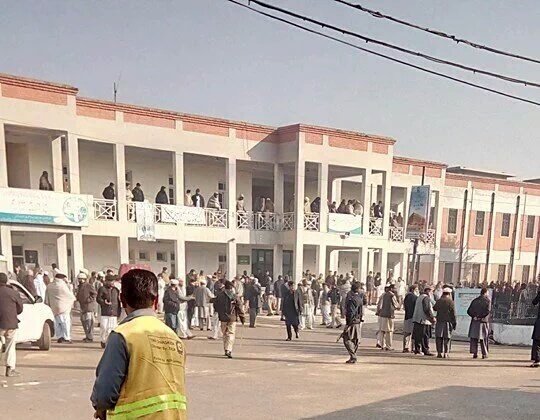 10:56am Reports say that a poetry event was underway at university at the time of attack. Around 600 guests were attending the event.
There was a poetry competition that was to be held today within the University premises in Charsadda. An additional 600 gueats were invited.

— Iftikhar Firdous (@IftikharFirdous) January 20, 2016
Supposed to go to Bacha Khan uni, got news of terrorist attack on uni at interchange. Sad

— Arif Tabassum (@ariftabassum) January 20, 2016
10:45am Chemistry Department professor Dr Hamid has been killed in the militant attack, an eye witness told newsmen. He further said that hundreds of students were still present in the university.
Dr hamid chemistry professor killed during attack #Bacha khan university

— Asma Shirazi (@asmashirazi) January 20, 2016
Prof Syed Hamid Husain had 7 research publications to his credit - killed in Bacha Khan University attack today pic.twitter.com/mgUmZfxQqk

— omar r quraishi (@omar_quraishi) January 20, 2016
10:43am Rescue officials have confirmed that dead bodies were present inside university premises. However they were not successful to reach the bodies so far.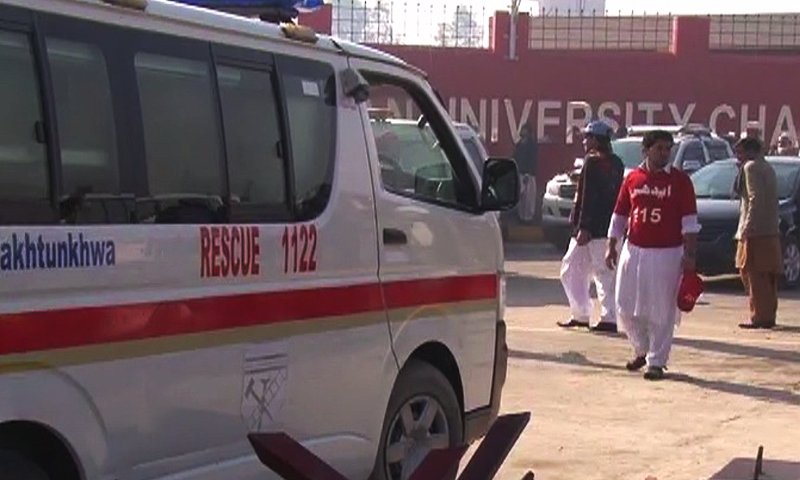 10:38am A helicopter of Pakistan army can also be seen flying above university premises.
10:37am People present outside university premises said that there was complete silence inside university since army men entered.
10:35am A large number of families of students have reached outside university premises. Forces have advised the families to stay away from the location.
10:27am Police officials have confirmed that four terrorists entered the university around 9am. The gun-battle is underway and none of the attackers could be neutralised so far.
They feared that a possible hostage situation could prevails at university as more details unfold.
10:25am Pakistan army troops have reached Bacha Khan University, according to KPK information department.
@Pakistan_Army troops reaches #Bacha_Khan_University

— Information & PRs KP (@infokpgovt) January 20, 2016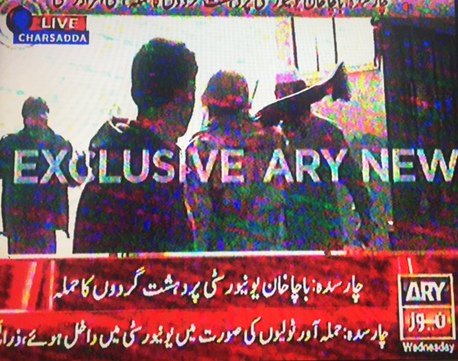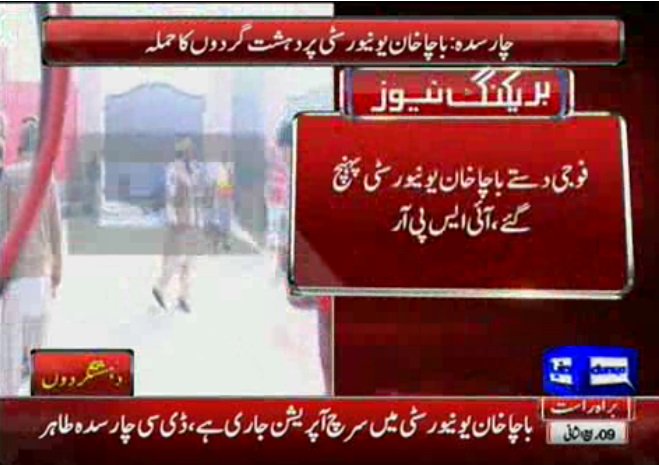 10:16am University's Vice Chancellor Fazal Raheem has said that none of the students and teachers was injured or killed in the terrorist attack so far. However he confirmed that four security guards were injured in the attack. According to him around 3,000 students were present inside university premises.
10:15am A situation of emergency has been invoked in the hospitals of Charsada and Mardan.
10:14am At least two strong blasts have been heard from inside since the situation began. There are reports of terrorists hiding in different parts of university.
10:12am Pakistan army has dispatched a special contingent to the university from Peshawar, officials said. The squad will soon reach the attack site to join fight with police and other law enforcement agencies.
10:11am Photos shown by a private TV channel show students running out of university premises after terrorist attack.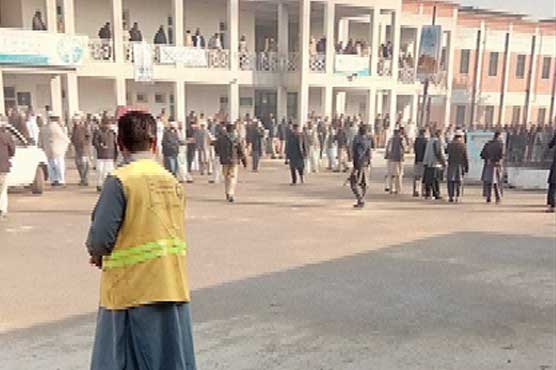 10:08am University administration said that a group of armed men entered the premises from a guest house located close to an entry gate. The guest house also carried a compound which was used by female students.
10:06am An eye witness says that at least five another people, who received bullets, have also been rushed to the hospital.
9:59am Elite force and Pakistan army's quick response force have been summoned to the university site, as police continue gun-battle with terrorists.
9:57am Unconfirmed reports claim that at least one security guard has been killed in the attack so far.
9:55am Initial reports say that at least three gunmen have entered the university premises.
9:47am There are reports that at least two security guards have been shifted to hospital after they were injured by firing of terrorists.
University Information: 
Bacha Khan University is located in the suburbs of Charsada city. The university campus is extended at up to 15 km area. There are multiple entry gates of the university while residential hostels are also located inside university premises.
CHARSADDA (Staff Report) - A group of heavily-armed terrorists stormed Bacha Khan University in Charsadda on Wednesday morning, killing at least 21 people and wounding dozens as the army hunted for any gunmen on the campus.